Here you can find projects financed within the Active Citizens Fund – Regional Programme.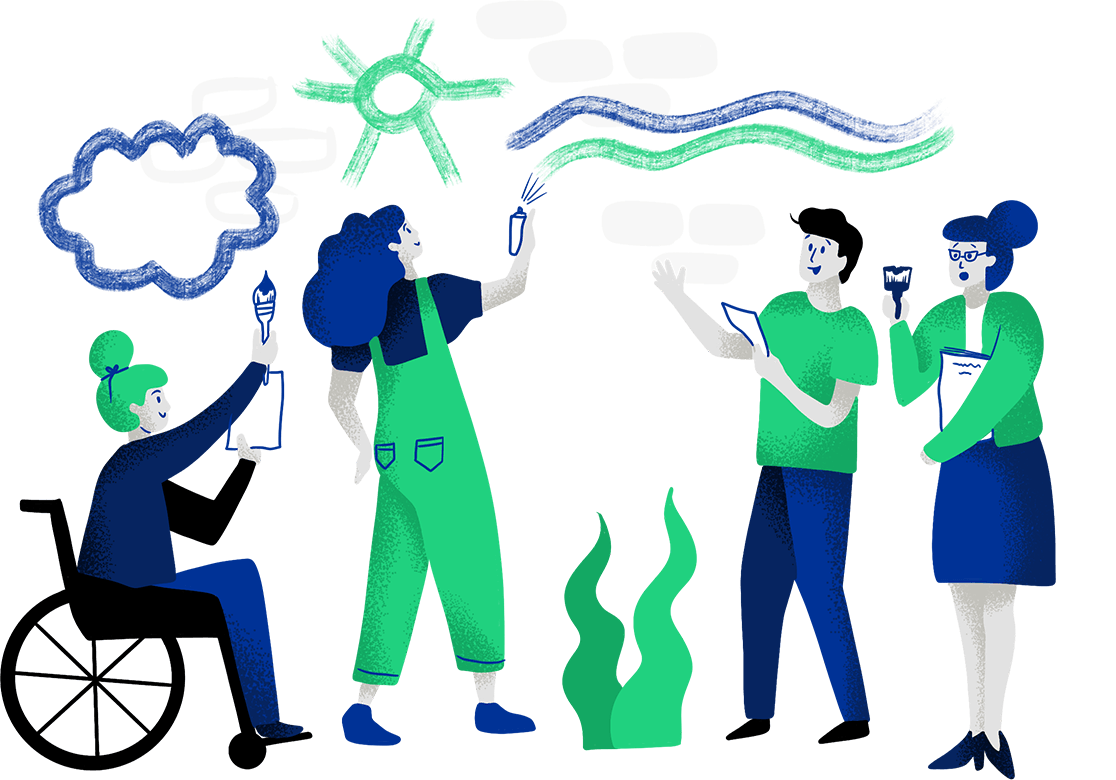 Click on the voivodship on the map below to find projects implemented in this province.
Project Promoter: Stowarzyszenie Młodych Animatorów Kultury
Grant amount: 102 133,37 EUR
Partners:
Stowarzyszenie Schron Kultury Europa
Stowarzyszenie Zielona Grupa
Duration: 01.11.2022-30.04.2024
As part of the project, we are setting up a group of local leaders (in particular youth and young adults), who will become involved in decision-making processes concerning the appearance and functionality of the space in the three neighborhoods: of the City of Poznan: Główna, Wilda and Dębiec. We are creating a development programme for the residents on environmental protection, ecology and local sustainability.
Project Promoter: Fundacja Szczęśliwe Dzieciństwo
Grant amount: 79 574,28 EUR
Partners: Spółdzielnia Socjalna Peron 3
Duration: 01.10.2022-30.09.2023
As part of the project we are implementing an innovative educational programme to build participatory and civic attitudes in young people. We conduct 'Elections in the M City' workshops as a game that simulates local elections. During the workshops, young people learn about the principles of civil society, including voting in elections or participatory budgeting. Three projects with the most votes will be implemented by young people supported by the local community.
Project Promoter: Stowarzyszenie "Intro"
Grant amount: 112 280,52 EUR
Partners: Odwikłane z przemocy (grupa nieformalna) (Poland)Beatus Cras (Norway) Universitetet i Stavanger (Norway)
Duration: 01.10.2022-31.03.2024
The aim of the project is to counter violence, especially post-separation violence, which victims experience after separation from the perpetrator. As part of the project, we provide legal and psychological assistance to victims. We provide training for lawyers and psychologists, organise a skills workshop for them, provide work by example, incorporate the perspective of victims, and offer an internship with mentorship.
Project Promoter: Fundacja Ekologiczna "Zielona Akcja"
Grant amount: 100 571,43 EUR
Partners: Fundacja Przyrodnicza "pro Natura"
Duration: 01.11.2022-30.04.2024
In this project, we draw the attention of local communities to how they can increase the resilience of the local environment and protect water resources and biodiversity. We prepare young people to carry out a water resources diagnosis, involve residents in discussion and prepare petitions to local decision-makers. We demonstrate the use of small-scale retention by implementing grassroots initiatives such as rainwater beds, rain gardens or green zones.
Project Promoter: Towarzystwo Nasz Dom
Grant amount: 95 728,56 EUR
Duration: 01.10.2022-30.04.2024
In this project, we provide comprehensive assistance to people caught up in violence. Our target groups are families, couples, individuals (men, women, children, young people) who are perpetrators, victims or witnesses of violence. We offer pedagogical consultations, parenting skills workshops, psychotherapy, we run support and skills development groups for people experiencing violence and those perpetrating violence.
Project Promoter: Fundacja Damy Radę
Grant amount: 101 616,96 EUR
Partners: Medycy Kobietom - grupa ginekolożek, ginekologów, psychiatrek i położnych
Duration: 01.09.2022-30.04.2024
In this project, we are implementing a series of educational activities dedicated to women's health. The project is a response to stereotypes, myths and prejudices about women's health and sexuality. The topics of the trainings and meetings include puberty and psychosexual development, menstruation, including menstrual poverty, modern contraception, pregnancy, childbirth and postpartum, preventive examinations for women, including mammography and cytology, infertility and mental health.