Here you can find projects financed within the Active Citizens Fund – Regional Programme.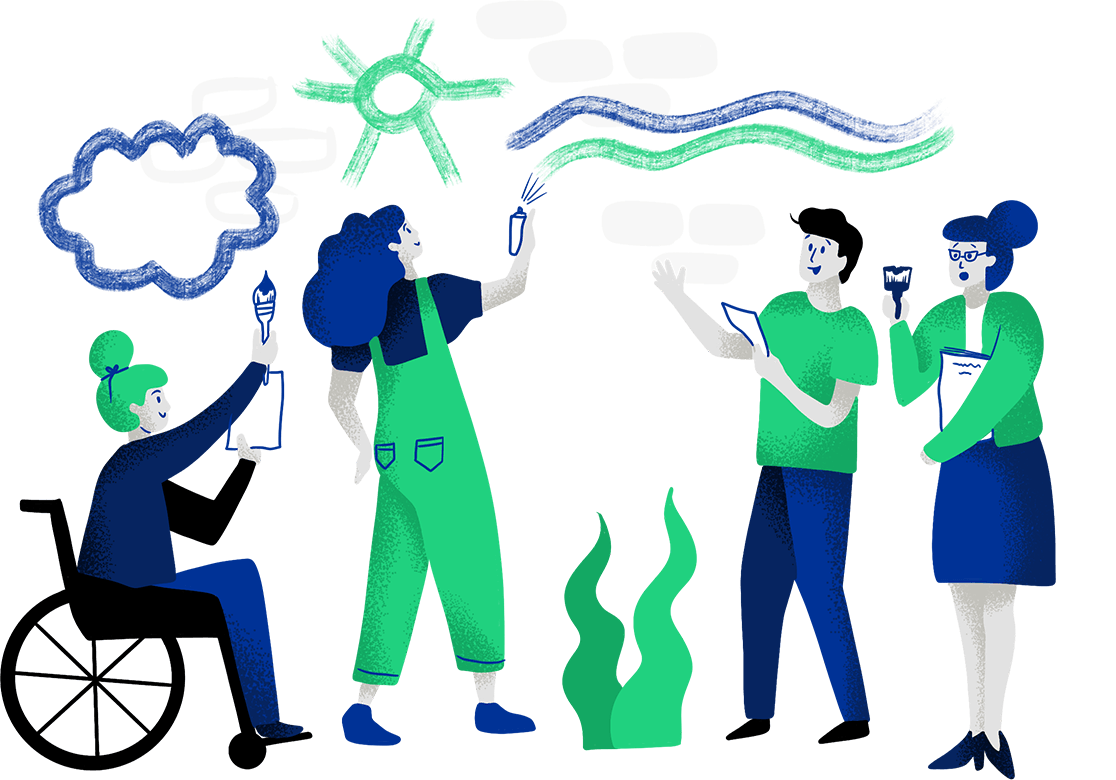 Click on the voivodship on the map below to find projects implemented in this province.
Project Promoter: Ośrodek Wspierania Organizacji Pozarządowych
Grant amount: 98 594,78 EUR
Duration: 01.09.2022-29.02.2024
In this project, we are changing the climate around public consultations. We organise meetings for local governments and NGOs on methods of conducting public consultations and on formal and legal issues related to them. We are preparing a handbook 'Consult for CLIMATE change, or how to do it step by step in your municipality', in which we describe model consultations.
Project Promoter: Fundacja Autonomia
Grant amount: 108 925,52 EUR
Partners: Stelpur Rokka! (Iceland)Karioka Girls Rock Camp Beskidy
Duration: 01.11.2022-30.04.2024
In this project, we are setting up the Solidarity Feminist Centre. This is an open, safe, libertarian and equality space, primarily aimed at women, LGBTQ+ people, human rights activists from different countries, migrant and refugee women. The aim of the Centre is to broadly educate about human rights and to increase the availability of an offer through which people in need will receive support and gain useful knowledge.
Project Promoter: Podlaski Sejmik Osób z Niepełnosprawnościami
Grant amount: 101 480,95 EUR
Partners: Fundacja Centrum Inicjatyw na Rzecz Społeczeństwa
Duration: 01.11.2022-30.04.2024
As part of the project, we are conducting in-depth research into the support system for students with disabilities concerning participation in student exchanges under the Erasmus+ Programme and the activities of universities in this area. We are building a community of ambassadors for inclusive mobility - people with disabilities studying at universities in the Podlaskie Province, and developing an accessibility standard for the Erasmus+ Programme for people with disabilities.
Project Promoter: Stowarzyszenie na Rzecz Rozwoju Spółdzielczości i Przedsiębiorczości Lokalnej WAMA-COOP
Grant amount: 114 969,00 EUR
Partners: Stowarzyszenie Gmin RP Euroregion Bałtyk (Poland)Elbląski Park Technologiczny (Poland)FØNIX AS (Norway)
Duration: 01.09.2022-30.04.2024
As part of the project, we introduce an innovative method of working with young people. We carry out diagnoses of needs and resources in the field of ecology and sustainable development in the three municipalities where the project is implemented. We conduct workshops on climate change. We test in the municipalities the youth initiatives. We promote youth entrepreneurship in the field of green growth. We want to implement the most interesting ideas of young people in these municipalities.
Project Promoter: Fundacja resocjalizacji i readaptacji społecznej TULIPAN
Grant amount: 69 188,39 EUR
Partners: Fundacja Zastopuj
Duration: 01.09.2022-31.12.2023
In this project we support young people (aged 15-29) from the West Pomeranian Province who are leaving or preparing to leave penitentiary institutions, Youth Centres of Sociotherapy, Youth Educational Centres or foster care. Within the project we provide these people with group and individual support to facilitate their successful social readaptation. We accompany them in discovering their potential and striving for change.
Project Promoter: Lokalni w Gminie Suchy Las
Grant amount: 97 212,24 EUR
Duration: 01.09.2022-31.12.2023
The main goal of the project is to increase the activity of young people from Suchy Las in public participation and creation of local policies. The project consists of two components. The first one includes the implementation of a participatory budget in 5 schools in the municipality. The second one is a series of workshops and training sessions to support and improve the competencies of junior councillors and future candidates for the Suchy Las Municipal Youth Council.